Visual design covers a wide spectrum including paintings that have to be designed independently, regardless of the medium used to create them. I find that drawing skills provide the best basis for all types of design and painting experiences, but each medium has its own inherent qualities that must be mastered and adapted to the design. Much of my work is experimental, just playing with abstract forms, colors, and patterns. Seeing what I can do with a medium. I also paint figurative works, although my skills in oil portraiture are still developing I find they do improve with each new challenge.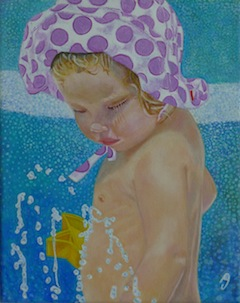 2011

Oil on Canvas
Discovery Size: 9,5 x 11,6 inches | 24 x 30 cm
I promised one of my sons an oil portrait of his daughter for his upcoming birthday, although I had never painted with oils before. That is how I work. I get an idea, speak it aloud and then I have to create the piece. I do not do this intentionally, it just happens. The first draft or underpainting was bad, so bad, so very bad. It was to be expected and yet I felt crushed but not demotivated. My working motto over the years has always been 'Just do it!'. I find this still works for me. Here it helped me take a step in the right direction. It was quite a challenge, but I put my heart into this painting and gave it, as always, my very best.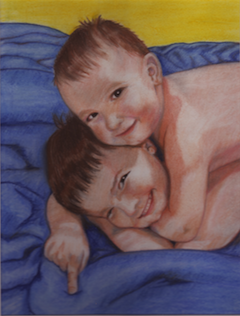 2011

Pastels on Paper
Fooling Around Size: 9,5 x 11,6 inches | 24 x 30 cm
I had planned on creating this painting for quite some time. Initally I did not any photo of the two boys and when I finally recieved one the deadline was just around the corner. Considering the time aspect I thought I would give pastels another try. The gift was well received, but I am still unsatisfied with the results. Do I expect too much from myself or from pastels?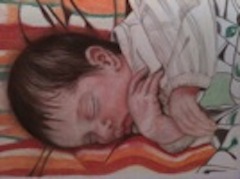 2010

Pastels on Paper
Sleeping Beauty Size: 9,5 x 11,6 inches | 24 x 30 cm
A friend once gave me a large set of pastels and a beautiful pastel block to paint on. I was extremely surprised to say the least. It took me some five or six years before I even tried them out. I had always been convinced that pastels were not my medium, that has not changed. Although, I can imagine using them for some experimental work. Who knows what is yet to come?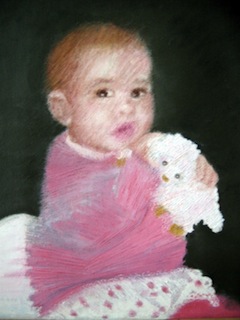 2009

Oil Pastels on Canvas
Possessiveness Size: 9,5 x 11,6 inches | 24 x 30 cm
I wanted to paint this lovely little girl. I intended to improve my skills and prove to myself that I could paint portraits. I started using acrylics and found the harsh edges I produced totally unsuitable and unbearable. I have seen many wonderful acrylic portraits and I have great respect for those who are capable of working such wonders in this medium. I went back to my oil pastels and did my best to catch the swift arm movement this little girl employed when her tiny lamb was in danger of being observed just a bit too closely.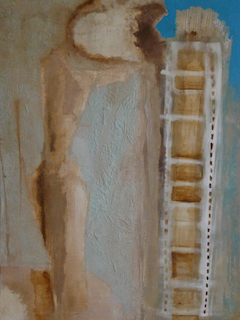 2007

Acrylics & Paper on Canvas
Real Reel Size: 23,2 x 31,5 inches | 59 x 80 cm
This was inspired by a poem, Power - Culprits of the Night, I had written in German quite some time ago. If you look closely you will see that this is not a beautiful picture. The poem is not beautiful either. Where such works come from, and why we, as artists, need to write/paint them is not always clear. Sometimes it is enough to have created them.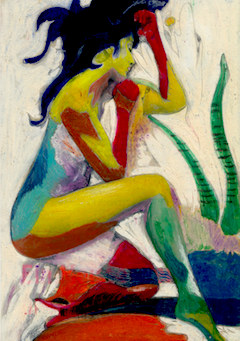 2005

Oil Pastels on Paper
Mysterious Creatures Size: 9,5 x 11,6 inches | 24 x 30 cm
It took me years to understand where the horrible little creatures in this painting had come from. After rereading a short story by Joyce Carol Oates, everything came back. The story was none the less horrifying the second time around.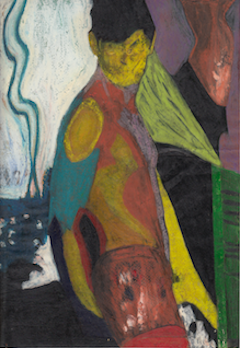 2005

Oil Pastels on Paper
Spotlighted Size: 9,5 x 11,6 inches | 24 x 30 cm
My computer crashed on a very hot summer day in 2005 and swallowed all of my writing, at least that was the impression I had at the time. It was a very tragic experience that fueled some hands-on creativity including two songs Patchwork Hearts and Slow and Easy, plus several paintings, e.g. Spotlighted and Mysterious Creatures.