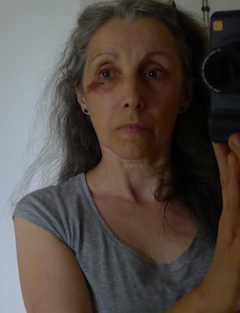 Jean Almeida is an American born (MA, USA) artist, performer and writer based in Vienna. She studied Visual Design at Southeastern Massachusetts University, which was renamed University of Massachusetts in 1991.
"Professor Alexander Nesbitt and his wife Ilse Buchert gave me the opportunity to discover that European otherness while working for them at The Third & Elm Press in Newport, Rhode Island. This experience, along with the explosive temperament of professor Kruger further triggered my desire to confront the power of the German language."
After graduation she moved to Linz, Austria where she continued her studies of calligraphy and printing techniques at the Kunsthochschule. In 1976 she relocated to Vienna, a city that soon became her home and place of work. In addition to enumerable odd jobs, during her early years in Austria, she also worked as a translator (German to English) and technical writer (Internet Technology - Mobile Communications) for over thirty years.
Artistic creativity has accompanied her throughout her life. Within the framework of the vienna poetry school she has participated in several poetry workshops (some including public readings). She has also participated in numerous other readings and vocal productions in cooperation with CHOROPAX, Erstes Wiener Lesetheater, Labyrinth and the vienna poetry school (sfd).
"I still walk in and out of life's dark corners, write about milestones, ups and downs, life's landmarks, and about the little rays of light that sometimes shine. I, mother of two sons and grandmother of two marvellous little granddaughters try to remain human and authentic. Creative writing and the arts are a normal part of my life when my life is normal, sometimes even when it isn't. Here are just a few things from the inside out."