What is it we put on pages and why? We all have our motivations, our inner reasons for doing the things we do.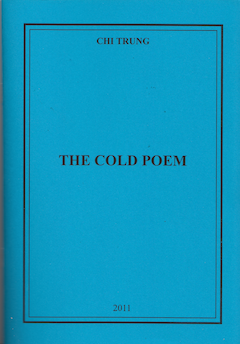 2010

Translation: One Poem… A Book
The Cold Poem Author's Chapbook (66 Pages)
German original: Dr. Nguyen Chi Trung
This was not an extremely easy poem/book for me to translate; I was American at the time of the Vietnamese War. This translation touched me. Although I had no say in the matter of the war, this was an oppertunity to give something back, something very tiny, but something.
Published as an author's chapbook in 2011, this book was created to voice its contents at poetry festivals in a language somewhat more easily understood by the visiting poets and the audience than Vietnamese or German.
Dr. Nguyen Chi Trung has written several volumes of poetry that have been published in Vietnam. One of his works, Winds, has been recently translated into Italian (2014).
Those interested in other works by Dr. Nguyen Chi Trung can find more information under www.nguyenchitrung.com.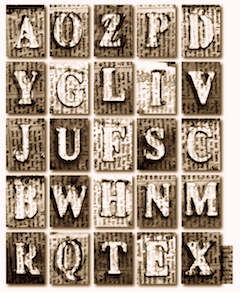 2009

Translation
Montezuma's Revenge Short Story
German original: Helga Anderle (Austria)
After reading an interview with Bianca Moctezume Barragá in 2001 I had often thought of writing a story about the penacho, a crown made of the tail feathers of the Quetzal bird. This relic of Aztec heritage is here in Vienna (Weltmuseum Wien) instead of adorning its place of honor in the Templo Mayor in Mexico. There has been much controversy with regard to this subject.
Then I went to a workshop held by Helga Anderle in (March 2009) where we met for the first time. Sometime later, Helga, who had already written a story acting on this theme, asked me to translate it for the anthology A World of Crime and Mystery 2010. A few e-mails were exchanged, but, involved in projects as we all are, we often lose touch. I did receive an e-mail telling me it had been accepted, but not that it was actually published.
More about Helga Anderle's work under www.krimiauthorin.at.
I created this alphabet of crime some time in 2010. One of the letters has been…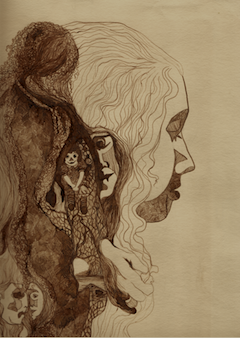 2008

Short Story
The Rag Doll Augustin
I wrote this story with a specific collection in mind. It was by far not the first short story I had written, but it was one of the earlier ones. The collection is growing.
I did back the sepia ink drawing, on the left, back in the States where the rag doll in this story was born.

2007

Poem
Temptation Verlockung clouds | wolken (HERON REIHE)
Book concept and photography: Gerolf Wichter
Literary coordination and selection: Ruud van Weerdenburg
Book presentation:
Date: June 26 2007
Location: kunsthaus-cafe, Graz, Austria
Temptation, written in 2004, is the first poem I had published. The reading in Graz was very well organized and the ambient in the kunsthaus-cafe was wonderful. We were asked to present our works in German and English to complement the bilingual edition of clouds | wolken. I read Ka Rudorfer's translation: verlockung.
temptation  

last evening - through a window
the moon was flirting with me

tempting me to grasp for it
remove it from its hiding place

secretly tucked away
in a maze of soft white clouds

gorgeously protected
by a rainbow colored aura

glowing like a golden coin
just waiting to be snatched

the incarnation of lust
awaiting my touch

fumbling through the clouds
to help it escape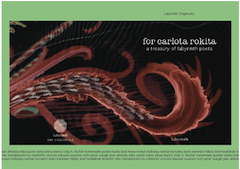 2007

Poem
Sonnet IV for carlota rokita (Labyrinh Chapbooks)
I remember Peter and I waiting for the books that were finished just minutes before we presented Carlotta with them.
This sonnet is for my grandfather.
sonnet IV
power of the old country does prevail
drawing Ponta Delgada atmosphere
like the sticky path of a garden snail
paints festive folk crying Fado tears
temptation wails through its mellow moll tones
craving mass infection at all expense
dignity's note now in the distance thrones
sadness and forgotten woes again intense
its riches found in every garden chore
pressing grapes for wine through a hand-churned sieve
scalding tomatoes, an aroma to adore
that nostrils in memory can retrieve
  tired, dirty, but not hurt, head leaned on his shoulder
  that I hope to remember when i get older

The whole cover of the chapbook is shown on the left. The color scheme of the original silk painting was digitally manipulated to make this cover.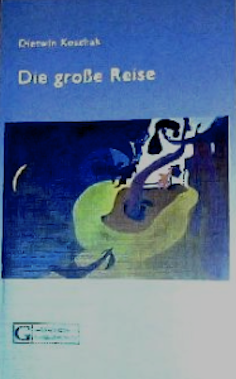 2006

Translation: One Poem - Three Languages
OUTWARD BOUND reibeisen: Kapfenberg's Cultural Magazin
German original: Dietwin Koschak
Dutsch translation: Ruud van Weerdenburg
Dietwin Koschak is author and painter. He won the Austrian grant for Literature in 1998. On the left his book, Die große Reise (The great Journey), published in 2005, contains poetry and literary prose.