Tasks as important as organizing readings, getting works published, and/or shown at exhibits often remain unattended. Doing translations, helping a book go from idea-to-draft-to-print, and writing in one's genre are the types of work we often find more rewarding. But after such exhausting and stressful endeavors we all need to open ourselves to the most important part of creating - regenerating one's resources.
Luckily we are not alone, and despite bouts of "laziness" many of us manage to profit from those who have taken the time and invested their efforts to publish a work, organize a reading, a festival, a conference, and/or an exhibit. This is a list of such events I have been privileged to be a part of. Sorrowfully, not all of these events were happy ones, but they all nurtured tiny sprigs of hope for a better future in one way or another. Here I also thank all of those who have invested their own resources to organize these and others such events.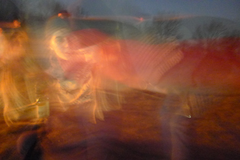 2012

Poetry Reading
a Tribute to Ide: ideade adeide cooperation: sainko namtchlak & sfd
Date: February 17 2012
Location: celeste, vienna
I would much rather have had no reason to read at this event, would have preferred it never to have had a reason to be. This event was organized by Sainko Namtchlak and the sfd as a tribute to Ide Hinze (✝), former director of the vienna poetry school (sfd). I heard about this tragedy on the evening news. I was shocked and speechless as so many others also were. Here my poem for ide.
ide: once beyond a lifetime

the threat of a sudden death is not
that, which haunts us most profoundly
as we wade through life's restless waters

it is always five minutes before
something or other
that is, until time stands still

  the lights on the television screen flicker
  newsflash colors dance throughout the room
  this, that, and a thousand things
  barely reach my subconscious mind...

then: ide hinze, founder & director of
the vienna poetry academy died unexpectedly...
seems to seep in

  had i just imagined this? had the i in ide changed position?
  had the spelling checker, set to polyglot, turned ide into die?
  was this a mistake? was my mind playing hooky with me?

i immediately checked the homepage, www.sfd.at
there it stood, confirmed on the internet, without a capital i
he was no longer with us - physically

ide died and the danube was frozen solid

icebreakers crashed through, to open it up again
to defy the laws of nature: cracking through
turning a solid sheet of ice into a bizarre & jarred seascape

the clear cold air, of the past few sunny winter days
had seeped through the dreary vienna smog
fine days for a journey and as good as any for the last

  this was all unexpected, for whom? for me, for sure!
  sometimes we have a say about the last journey
  if we are brave, we can pick a sunny day

fleeing mediocracy implies our filling the void with a dream
ide, thank you for your dream, for the seed, for the sfd
for all the buds and blossoms it has and will continue to nourish

ide died and the danube was frozen solid

and in that realm beyond - there is now another new dragon
one who eats the capital letters from children's school books
one whose wings, in flight, still leave a breath of fresh air behind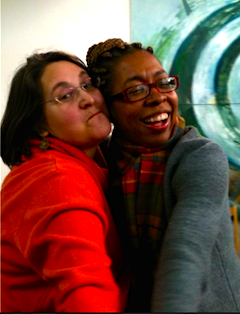 2010

Poetry Reading
Taten & Tatzen | Actions & Paws Festival for Art, Knowledge Exchange and Animal Protection
Event: Taten & Tatzen
Festival for Art, Knowledge Exchange and Animal Protection
(Festival für Kunst, Wissensaustausch und Tierschutz)
Date: November 29 - December 12 2010
Location: Kunstraum Praterstrasse 15, 1020 Vienna, Austria
Participants: Goran Novakovic, Labyrinth & Guests including: Peter Waugh, Hanane Aad, Jean Almeida, Dieter Berdel, Maria Elena Blancó and Victoria Slavuski
This interesting reading was organized by Dr. Renée Gadsden who can be seen in the photo on the left together with Ida Cerne. In addition to the reading, a performance was also given by Ruth Mateus-Berr of her Olfactory-Audio Pendulum. Sound for the performance was recorded and supplied by Rupert Huber.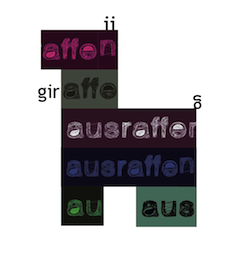 2010

Poetry Reading and Exhibit
ausraffen - Visual Poetry Exhibit a berdel-pusitz-waugh production
Date: August 28-29 2010
Location: bergheuriger schuecker, höflein on the donau, lower austria
Contributors to the exhibit: jean almeida, marian bednarek, dieter berdel, christian katt, heinz pusitz, peter waugh, and janus zeitstein.
The list of participants is long, many other poets, not listed here, also read at the open-mikes:
Haimo Handl, Susanne Toth, Gwilym Williams, Franz Blaha, Dana Rufolo, Tarek Eltayeb, Lydia Mischkulnig, Rati Saxena, Corneliu Antoniu, Dieter Berdel (+ Karl Menrad), Wolfgang Ratz, Manuel Ramos Martinez, ka, Nathan Horowitz, Sarita Jenamani, Lena Dabic, Christian Katt, Aftab Husain, Susanne Scholl Labyrinth: Evelyn Holloway, Jean Almeida, Nathan Horowiz, Ka, Peter Waugh, Vicki Slavusk, Karl Menrad, Peter Sragher, Renee Paschen, Sylvia Petter, Jean Almeida, Toby Fischer, Najem Wali, Heinz Pusitz, Melamar, Gabrielle Petricek, Corneliu Antoniu, Chibo Onyeji, Evelyn Holloway, Cristina Rascon, Janus Zeitstein, Enrique Moya, Hanane Aad, Wolfgang Glechner, Hannes Lapesch, Rati Saxena, Cornelia Hülmbauer, Walter Baco, Daniela Beuren, Elisabeth Jupiter, Victoria Slavuski, Peter Waugh, Dagmar Fischer, Bernhard Widder, Peter Sragher, Lena Rothstein (vocals) + Adula Ibn Qadr (violin) + Martin Schönlieb (guitar), Walter Baco (Synthesizer), Martin Schönlieb (guitar) + Felician Honsig-Erlenburg (alto sax)
The visual on the left was one of my contributions to the exhibit. It was created with an MIT open source application that I had on my desktop just the other day with the intention of accrediting the original author here. It has disappeared for the moment, but I will not give up the search. I had found it on the Internet a long time ago and at first I only tried one function that made fancy initials - just for fun. Quite some time later I found time to try out more of its functionality. When the time came to make this visual, I knew exactly what I wanted.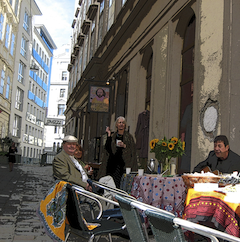 2008

Poetry Reading
Street Fest in the 1st District
Cooperation: UrbanNomadMixes, Shakespeare Booksellers & others
Event: Street-Fest in the 1st District Location: Friedmannplatz
Date: September 13 2008, 9 bis 18 Uhr
Coordination/moderation: Camilo Antonio & Nancy Stahl/Stefan Mey
Breakfast sponsored by: Bäckerei Waldherr & Hotel Mercure
Music: John Battaglino (Gitarre und Gesang)
Camilo and I invited the public to write or paint wishful thoughts, dreams and visions. We then decorated the quarter with them and they waved in the afternoon breeze during the performances.
Performing artists: Poets/writers Jean Almeida, Camilo Antonio, Michaela Gabriel, Renèe Paschen, Anna Nöst, Franz Karl Prüller, Ruby Sircar and Anatol Vitouch
Musicians and Vocalists: Alexander Czjzek (saxophone & electronics) & Fritz Dürauer (guitare & vocals), Ewald Kogler (barrel organ) & Stefan Salhofer(bagpipes), Senka Novak (violin) & Tomasz Skweres (cello), Dejan Petrovic, Igor Bararon and Martin Lubenow (accordion).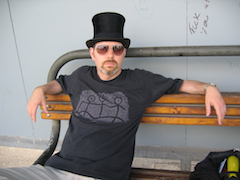 2008

Poetry Reading
1st Hoeflein Donau Wide Poetry Festival a berdel-pusitz-waugh production
Event: 1st höflein donau-wide poetry festival
Date: August 30-31 2008
Location: bergheuriger schuecker, höflein on the donau, lower austria
Participants: hanane aad, dieter berdel, daniela beuren, christian ide hintze, aftab husain, christian katt, melamar, enrique moya, renee paschen, martin kubaczek, toni mantler, manuel ramos martínez, gabriele petricek, heinz pusitz, wolfgang ratz, sarita jenamani, sophie reyer, esther strauss, thomas northoff, günther windisch
labyrinth poets: jean almeida, maria elena blanco, homemade gordon banks, toby fischer, evelyn holloway, karin kaminker, hillary keel, felix de mendelssohn, horst prillinger, carlota rokita, susanne toth, victoria slavuski, peter waugh and janus zeitstein
music: steve gander, haselsteiner, ingomar kmentt, edgar felix lliuya, max lorenz, sandro miori, wolfgang ratz, mike scharf and martin schönlieb (guitar)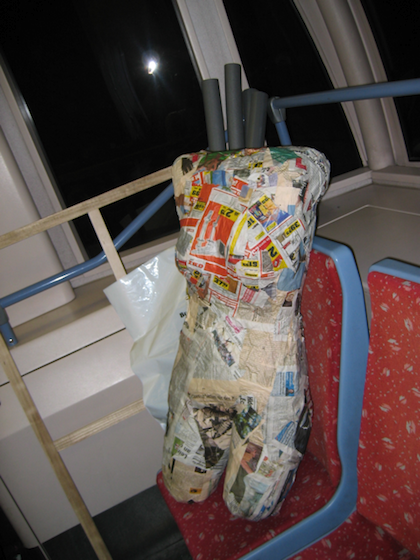 2007

Performance - One Act Play
mat(t)rimony (with two Ts) Poetry in the Park (Labyrinth)
Event: Poetry in the Park (Labyrinth)
Date: May 19 2007
Location: Theseus Temple, Volksgarten, 1010 Vienna
Cast: Jean Almeida, Peter Waugh, the Torso
Evelyn Holloway & Homemade Gordon Banks as prison guards
This took place during the IV. Festival of Latin American Poetry in Vienna (May 15 - 19 2007. I was hosting the poet Daniel Muxica (✝) and made this torso while he was away one afternoon. Peter Waugh had agreed to perform my piece, mat(t)rimony (with two Ts), with me and I figured it would be an advantage to have a few props. I transported the torso and the prison window in several underground trains (U6, U1, and U2), but it didn't seem to bother anyone. There are certainly some photos of the performance somewhere, but I don't have any of them.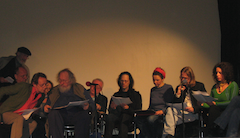 2007

Poetry Reading
Ginsberg Ginsberg readings & screenings
Cooperation: labyrinth, 1. wiener lesetheater & schule für dichtung (sfd)
Event: Ginsberg & Ginsberg
Date: April 5 2007
Location: Schikaneder cinema
I have participated in several Ginsberg readings but at this one someone went around collecting signatures, in the program, from all of the readers.I was very surprised and I may have signed, but since then I am very cautious. Somehow it just didn't seem right.
The photo to the right shows the 1. wiener lesetheater reading Howl in German.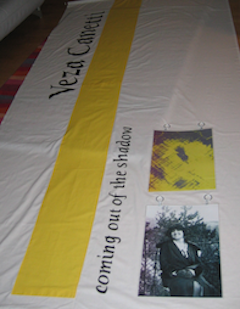 2006

Reading and Banner
Fest for Veza Canetti
Date: June 10 2006
Here one of the poems I wrote for this event that was inspired by Veza Canetti's work.
smelling the voiceless

1932 till then when justice...
timeless themes connected
women, patience, and roses

figures that take the hands
of the three monkeys, away
trigger individual memories

falling like rose petals
kept dry and dusty 
in hidden corners

trigger collective memories
let them creep into the light–
strengthened with thorns
     like roses

together against the fear
they touch the tenderness
buried under the holocaust
     and see

in a global view 2002
an ai campaign against
violence, iron knuckles
     bringing roses

global voices still trying
to take those hands away
racism, destruction
     and roses

2006 still a rich-poor world
profits from random distribution
for those with eyes that turn away
     towards roses

building walls
that cloud mutual rights
deny mutual dependencies
     and smell

fragrances smiling
from thornless faces
fair trade against
the odor of death clinging 
     to roses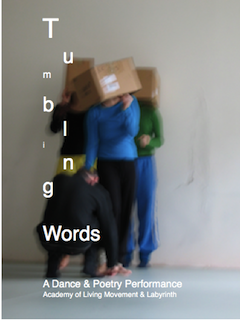 2006

Poetry Reading
Tumbling Words A Dance and Poetry Project
Cooperation: Academy of Living Movement & Labyrinth
Event: Tumbling Words
Date: April 01 2006
Location: Heinrich Collie Straße 9, 14. Vienna
Tanz: Linde Hals, Welmoed Kollewijn, Lisa Schulte & Evellina Sivonen
Poetry: Jean Almeida, Evelyn Holloway, Hillary Keel, Carlota Rokita & Peter Waugh
Music: Caroline de Rooji & Combo
This reading was a new cooperation for Labyrinth resulting in the CD publication of two of my song text on Caroline de Rooji's Little Circus Girl. It was also an interesting poetic experience for me, motivating me to write several sonnets during preparations for the event.
The photo was taken at one of the rehersals and added to complement this entry.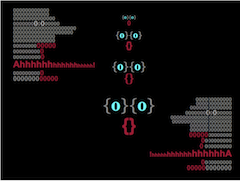 2004

Reading, Design & Production (of the site)
Hypertext Poetic Multimedia Show Labyrinth
Event:Hypertext Poetic Multimedia Show
Date: 18th & 19th of November 2004
The placement of this project was a bit difficult, it is a good example to explain my logo: a black box with the words inside (half hidden in back) and the out popping out of its side. I find this project could just as well find its way into a digital poetics page as an example of language experience using html mark up language, but I decided to place it here because only the visual part was beamed throughout the performance as a visual support for those who are, more often than not, challenged by poetry voiced in a language other than their own.
This was a wee hours of the night project that somehow managed to get finished - just in time. The idea was to make a visual poetry page for each poem. The poems were then linked via keywords that jumped to the next poem containing the said keyword.
In my opinion SCREAM, the visual representation of Peter Waugh's poem, is the most interesting one. Sorrowfully the time frame did not allow for all of the visualizations to become so intricate. It was a very interesting experience to use html for a poetic presentation.
Poems featured by Labyrinth poets: Jean Almeida, Mike Austin, (✝) Evelyn Holloway, Zoran Mimica, Bruno Pisek, Peter Waugh, and guest reader Heinz Pusitz
Musical accompaniment to the performance was provided by Sandro Miori (Saxophon, Flöten), Bruno Pisek (Elektronik), and Sophie Reyer (Komposition)